Summer season is knocking at the door and with it come the plans to spend some time at the beach. The rich blue ocean water along the coastlines and the hot beach sand is something that is ideal for an outing or even for professional events. The perfect blend of land and water is the ideal place to relax after a stressful work week. One thing that actually matters in your beach trip is the attire. Beach attire has to be full of colors, life, and fun as this is a place we look forward to visiting and relaxing our mind and our body to take a break from our tiresome and monotonous routines. in our daily schedule. To make the most of the beach time, the clothes we wear on the beach have to be in tune with the mood. Here are some exquisite pieces of beachwear that are suited both for a casual outing and also for a trendy formal event since beaches are always full of surprises.
Bikini Beach Dress
Many top-notch fashionable clothing brands have introduced a special type of bikini that is perfect for both beach relaxation and a beach event. The top and the bottom are stitched into a one-piece beach dress. The flimsy silk fabric of the dress gives it a flattering look and brings comfort to it. The thin straps hold the top portion in place while there is a constricted region around the abdominal area. This unique bikini summer dress is amazing and when paired with beaded sandals and beaded pieces of jewelry.
Lacy Beach Dress with Camikini
Lacy beach dresses are becoming a new trend for beach holidays. And when it is coupled with the perfect pair of monochrome camikini, the entire attire gets a flirty twist. The partial covering of fabric draped over your tanned skin is perfect for flaunting your curves without being too revealing. A wide white hat matches the set perfectly when paired with bangles and slippers.
Bohemian Crop Top with Sliit Skirt
Bohemian style beach dresses are very common along the coastline areas. This unique dress piece consists of a halter neck crop top which is backless. It ends just below your chest and hugs your body in all correct places. The skirt sits on the lower waistline and ends at the ankles. The slit starts at the knees or a little above the knees and runs along one side of the skirt till the hemline.  The fluttering movements of this dress in the cool beach winds is the most amazing experience one could have.
Floral Robe with Push Up Bikini
Floral patterns are becoming women's favorite fabric print for the summer season. This print can be worn at the beach as a silky robe to look gorgeous at the beach. Couple a floral robe having dolman sleeves with a black push up bikini to make your outfit look exotic and marvelous. Add some lacy ties in front to give a different look to your beachwear.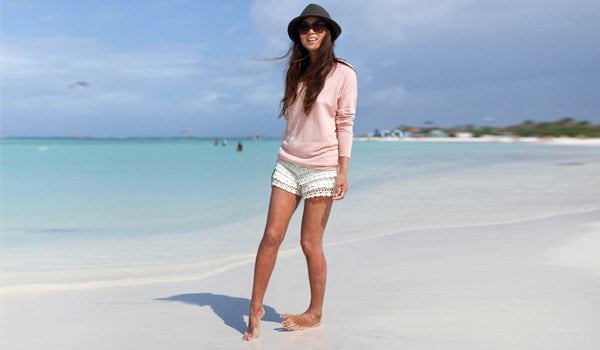 Spaghetti Strapped Asymmetrical Dress
Spaghetti strapped dress is a preferred clothing item both for the beach and for daily casual wear. The asymmetrical hemline makes it perfect for an evening at the beach or a beach date. This dress blends well with the ambiance of the beach. Choose this dress in floral prints or mixed colored prints which are suitable for beaches as they are full of colors and give you a bright and cheerful look. This dress is sure to be a winner at the beach.
Lacy Crop Tops and Denim Shorts
Crop tops always go with the denim shorts as both give a glamorous yet fashionable feel to your beach look. The intricate lace design matches perfectly with the beachy mood so if you already have a crop top with lacy hemline in your wardrobe, don't think any further about the perfect occasion to wear it.  Just put it on with a pair of denim shorts and hit the beach. The dress combination is good if you want to flaunt your slender legs and curvaceous figure.  Pair it with either a wedge or slippers and a wide beach hat and you are ready to thrill with all your friends at the beach.