Is your heart set for a fairy tale wedding? Then Delhi is the right place where your hunt for venue ends for a wedding and the pre-wedding functions. A wedding is the most unforgettable day in everyone's life. Hence everyone wants to make the day unforgettable. You may feel frustrated and exhausted by looking at different venues for the wedding day. The task of choosing the wedding venue that can fulfill all your requirements and special needs is a challenge. Before even choosing a venue you should be clear with criteria that are absolutely important for you. Your plans for the marriage might be simple or a royal and grand one, Delhi is capable of satisfying it all. Here are 3 easy ways to narrow down your ideas to book the best Wedding Venues in Delhi.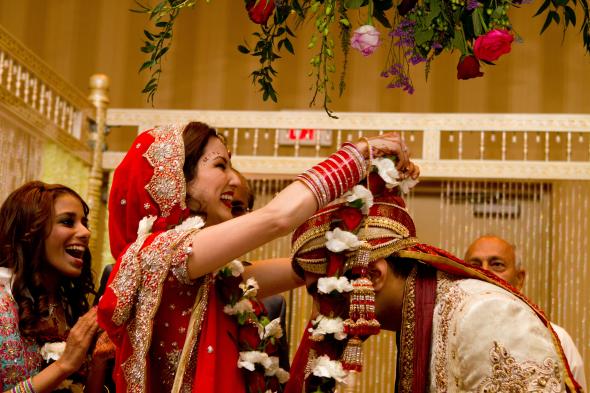 A roomy fit:
The Marriage hall must have enough space to accommodate all the guests. When a hall is empty it might look big enough but when it is with chairs and tables here and there, it might not be sufficient to accommodate as we think. So we need to check the size of the hall keeping all these constraints in mind else it would be difficult to maintain guests and they too might not feel comfortable.
Good view:
Banquet halls should have a clear view for all the guests of what is happening on the stage. The elegant decorations made in the hall should be easily covered by the photographers and videographers.
Image source:shadiekhas
Party Areas, Eating and Drinking:
Wedding halls should have ample space for guests to eat, drink and dance. We should have a check of all this whether it would be easier when we stand in that place. Dining areas should provide best space between vegetarian and non-vegetarian food as that shouldn't create discomfort for the guests. Drinking areas can be set up on a lawn so that not everyone gets any trouble out of it.
Image source:weddingZ
Guest rooms:
Most Wedding halls provide ample facilities but do not have proper guest rooms which makes us to book rooms for them outside which is actually unwanted. We need to have a proper count of the guests who are going to stay with us from the pre-wedding functions till the end so that we might book rooms accordingly.
Managing the budget:
Out of the rest managing the budget for the wedding is the great thing. Hence when we start up we need to start looking for a marriage hall based on the budget we set. Set the price range for everything you book, finalize and then start looking for the exact marriage hall. We should have a proper check on how much time are we going to use the hall. If used overtime any extra payments to be done or not.
Rooms for the Bride and groom:
Is there changing rooms for the bride and groom in the Banquet hall with all facilities with privacy? This is an important thing to be considered. Rooms should have enough space which can accommodate at least 10 people as bride and groom would be accompanied with friends and makeup artists.
Parking areas:
 Parking lot is a serious concern should be provided for the guests. If there is no enough space then alternative space has to be decided as this should not affect the public outside.